Foo Fighters Will "Take a Break" When Tour Ends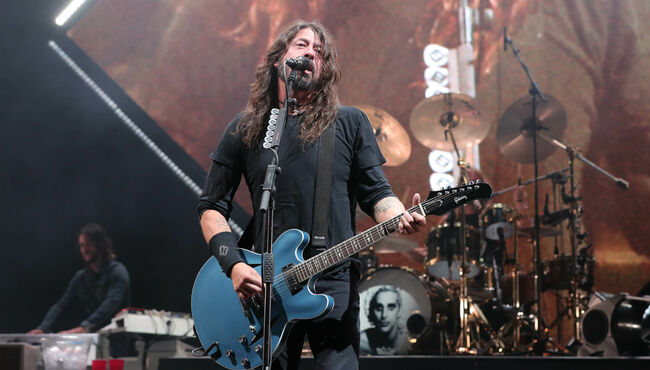 The Foo Fighters have more than earned a break after being on tour for the better part of the last two years.
Front man Dave Grohl says when the band's Concrete and Gold tour wraps this month, he and his band mates are going to take some time before getting back into writing mode.
"It's a challenge, you know?" Grohl told Billboard in a recent interview. "You kind of set these goals for yourself, to see if you can do it again, even when you're crawling to the finish line you know that it's there. So here we are at the last set of shows. We've been on for a year and a half and I'm ready to take a break, but I'm ready to do it again at some point."
Indeed, Grohl has never been one for long hiatuses. Even after Nirvana broke up; Grohl had released the Foo Fighters debut within a year-and-a-half.
The past few years have comes with their share of hard knocks, unforgettable moments, side gigs and reunions. While the Rock and Roll Hall of Fame drummer-turned-front man is always ready to create something new, a healthy vacation could do wonders.
He assured fans that the Foo Fighters band members have plenty of ideas for a new album, but they won't rush back into the studio.
"...I see music in kind of shapes and patterns, so I can see the next record," Grohl said. "I know that there is another one there; I don't know when but I think I know what we should do."
He continued: "We've been lucky we've had this lightning rod that we've followed for f***ing 24 years or whatever, and it takes us where we think we should go."
The singer has previously expressed a hope to make another season of his acclaimed HBO series, Sonic Highways. But he's also been trying to collaborate on music with Adele for several years.
Then he's got this career as a backup talk show host, plus this Nirvana thing — whatever it is — to think about.
If nothing else, Grohl's liver could sure use a vacation.
Photo: Getty Images